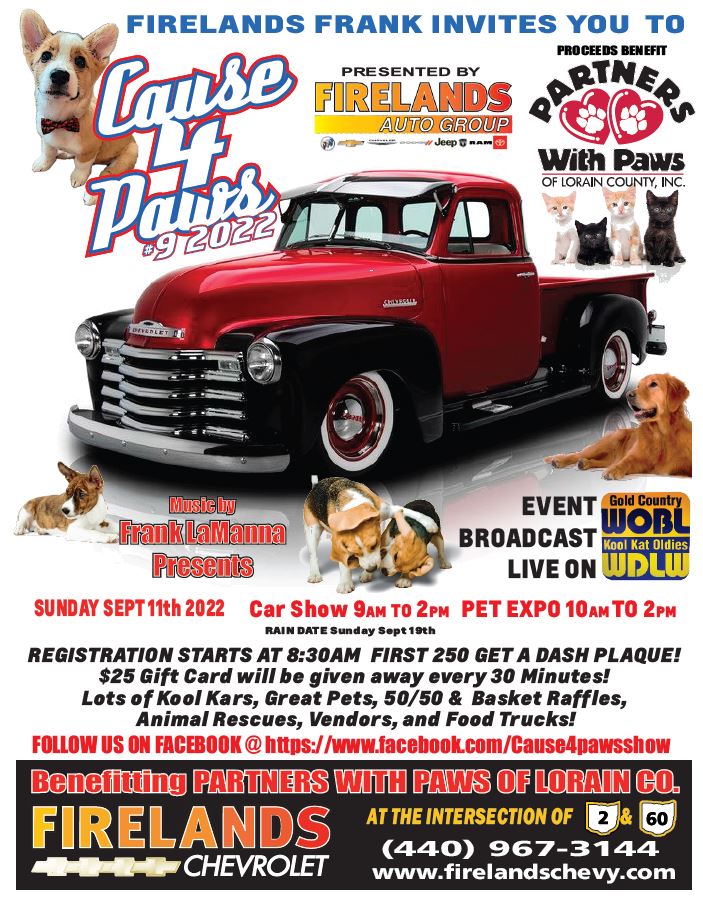 ?
Mark your calendars, because our annual Cause 4 Paws event is back on September 11th, 2022 from 9AM-2PM!
2022 is the 9
th
Cause for
Paws
Cruise-In and Pet Expo benefitting Partners with
Paws
of Lorain County. The event has grown from a synergy between a car show with an adoption event into a full pet exposition with area rescues, pet related vendors, food trucks and of course a car show. The purpose of the show is to raise awareness for "Partners With
Paws
", a Lorain county based 501(C)(3) organization that assists local animal rescues with funding and has helped thousands of pets find warm, loving homes. Over the past ten years we have had thousands of registered vehicles, dozens of pet adoptions and over tens of thousands of dollars raised for the shelters. Even Fox 8's own Dick Goddard had volunteered his time and stopped by to sign autographs and support the cause. This year will be the seventh year at the intersection of state routes 2 and 60 in Vermilion.
For 2022, planning up to this point has an expectation of 300+ Car show participants, over a dozen pet oriented vendors, ten animal rescues and four food trucks to provide the visitors with choices of refreshments. The food vendors also typically take a portion of their profits from the day's sales and give it to Partner's with Paws.
About Partners with Paws of Lorain County:
"Partners With Paws" began on March 4th, 2003 as, a weekly pet adoption show, hit the airwaves for the very first time on Radio Station "Kool Kat Oldies" WDLW 1380AM, now also 98.9 FM. Six months later, on September 2, 2003, it debuted on "Gold Country" WOBL 1320AM, now also 107.7 FM. Still on the air with these two stations, it is their longest running, and most sponsored, radio feature. On February 7, 2011, "Partners With Paws" received its license to operate as a 501(c)(3) non-profit organization under the name "Partners With Paws of Lorain County, Inc.". "Partners With Paws" has helped thousands of pets find new homes. It has helped to reunite hundreds of lost & found pets with their families. It continues to raise hundreds of thousands of dollars for pets in need with emergency life-saving surgeries, spaying, neutering, routine vaccinations and other medical needs. Every year, "Partners With Paws of Lorain County, Inc." financially assists over 25 local animal rescue organizations.